Top Nordic Hedge Fund Delivers 30% Return With Activist Agenda
Telling top management what to do is paying off for this Nordic hedge fund.
"If you're just a shareholder you can express your views but the company forgets about it when you leave the room," Henri Osterlund, founding partner of Luxembourg-based Accendo Capital, said by phone on Tuesday. "If you sit on the board you can make sure that your ideas are taken into consideration."
Activist Accendo Capital, founded in 2008, generated a 30 percent return in 2016, making it the top ranked hedge fund in the Nordic region, according to website HedgeNordic. That follows a 49 percent return in 2015.
The 54 million-euro ($58 million) event-driven fund, which invests in small and mid-sized listed companies in northern Europe, prefers companies in the "broader technology space" that have niche competence and position in their markets, according to Osterlund, 45, who previously worked at private equity firms Triton Partners and Doughty Hanson.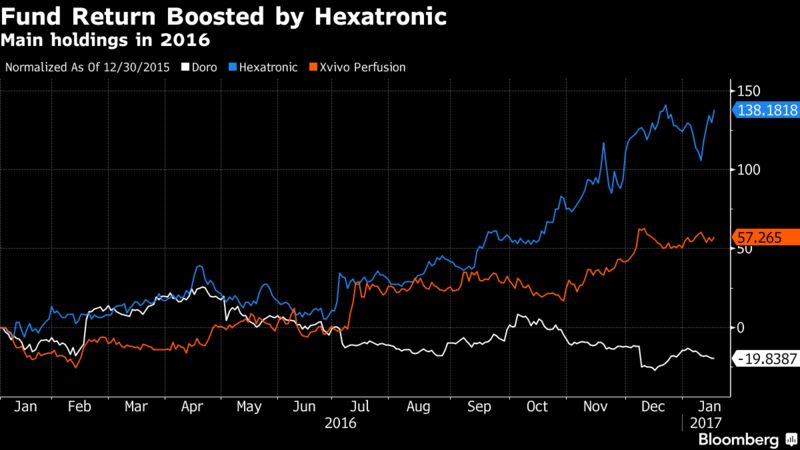 "The Nordics are generally relatively innovative," he said. "They come up with ideas that sell quite well in the global arena."
Accendo's has stakes in a handful of companies, including Hexatronic Group AB, Xvivo Perfusion AB, and Doro AB, in which it's the biggest shareholder. The Lund, Sweden-based company provides mobile telecommunications solutions for seniors.
"We see good growth opportunities in providing technology-based solutions for keeping the aging population engaged and connected," said Osterlund, who manages the fund with Mark H. Shay, 44, and Kai Tavakka, 30. "It is easy to see that these demands can best be met with more advanced technological solutions and this is the domain of Doro."
The fund's 2016 return was boosted as it built a position in the rising stock of Hexatronic and exited Okmetic Oyj and Alma Media Oyj, and sees more opportunities among smaller Nordic companies that may be misunderstood and less analyzed by the market.
"We're building positions in companies," he said. "We'd like to be under the radar as long as we are initiating our positions."